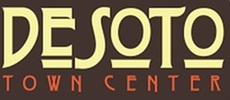 Your Review
Submit a Review

Resident Reviews
My Home...not just a property
|

Recommended: Yes
The support and care received is excellent.|Recommended: YesThe apartments are roomy and comfortable. However, it can be noisy due to the wood floors and heavy footed occupants. The pipes, when running water, can make noise also. Apartment complex needs a better method of garbage disposal.
Two things|Recommended: YesPlease ask the exterminator to spray the corridors and hallways. The crickets get out of control this time of year. Please ensure that all doors that access the garage are closing/securing properly. Thank you. ---R.D.
Awesome!!!|Recommended: YesI really enjoy living at DeSoto Town Center Apartments, Everything is right at your reach!!!
I love living here. I love the variety of neighbors and visitors to the Town Center.|Recommended: YesIt is about freedom of activities and there is never a dull moment.
Very clean and quiet. Excellent maintenance crew. |Recommended: YesIts a wonderful and beautiful place to live. A lot of responsible people live here.
LOVE MY APT, JUST WISH WATER WAS DRINKABLE|Recommended: Yesits really centrally located, tons of things to do...nice atmosphere and really nice office personnel that make you want to stay!!!
This is an amazing community to live in!|Recommended: YesThe staff is friendly and always ready to help and I love that there is a trail right behind our buildings. I get in a great run and then can take a dip in the pool. It's a great place to live and it encourages a healthy lifestyle.
The Pool|Recommended: YesI have lived in the TC for two years in July and my main complaint this time of year is the pool. To the Owners: please install new, sturdier locks that cannot be pulled open (I've seen it done) so that the local teenagers cannot gain access to this area. The noise is a nuisance, and I cannot enjoy the pool area. Otherwise, all is well at the TC.
I love it!!!|Recommended: YesIts a great place to live, and everything is at your fingertips. The community environment of DeSoto Town Center is just AWESOME!!!
DeSoto Town Center Apartments provide a plesant environment and a gracious atmosphere|Recommended: YesI would tell them that on the whole the experience has been a good one. The apartment homes are lovely, clean and comfortable with outstanding mangement. I did have to adjust to the loft design when it came to bringing in groceries but the walk has been beneficial healthwise. The noise level varies . Because I live downstairs , I can hear the tenants walking around or moving furniture because of the hardwood floors, however, those kinds of noises don't occur often. Overall, the living experience here has been great.
Great place to live|Recommended: YesBesides a couple of filthy residents, the living is wonderful. Some residents are not taking pride in helping keeping the area upscale. The library downstairs can be a headache sometimes. There are always children outside of it loitering.
They are great|Recommended: Yesits a nice environement and are great
Love it,,,,Love it.|Recommended: YesThe only problem is that I live on the corner fo the building and when the weather is disagreeable, the corner apartments get it worse than anybody. Should be a way to block some of that air especially on the north side. Maybe allow us to put more insulation around the door because there is too much space between door and door frame. Also, I still think that instructions should be sent to residents on how to use that grill down there and who to contact when the fuel is low. I hope I am answering #2 question right. If my neighbors downstairs can hear me walking like I hear those upstairs, I am so sorry. I am getting used to waking up during the night.
Feedback|Recommended: NoWater quality is still very poor. This type of water quality would not be acceptable in other communities.